A registered dietitian assesses your usual dietary intake and identifies areas where you can make changes to meet your dietary and health goals.
We work with everyone from Olympians and professional athletes to weekend warriors and anyone motivated to improve their health and well being!
We can help with everything from a diet overhaul, to managing medical conditions, fine-tuning food choices or addressing unique dietary challenges.  
We create a customized dietary plan to help you meet and maintain your dietary goals. You will receive helpful information, educational materials, support and follow-up to help make sure you succeed. 
Our Areas of Expertise
nutrition for before, during and after your workouts

sweat rate calculations

sport supplementation

competition nutrition strategies

weight loss, weight gain, eating disorders, disordered eating

diabetes, vegetarianism, osteoporosis, hypoglycemia

irritable bowel syndrome, Crohn's disease, celiac and other gastrointestinal disorders

heart health, hypertension, cardiovascular disease

food allergies and intolerances, picky eaters

meal planning for busy lifestyles

couples nutrition assessment

lifecycle concerns: pregnancy, menopause, children, seniors
We also specialize in sports nutrition for recreational and elite athletes, including Olympians.
We help make sure your dietary intake is right for your sport performance goals and training needs. 
Areas of specialty include:
building muscle

losing (or maintaining) body fat

training recovery

performance supplementation

preparing for training camps & selection camps

competition nutrition (what to eat before, during and after sport events)

nutrition for travel & restaurant choices, especially for sport competitions
First Appointment with a Dietitian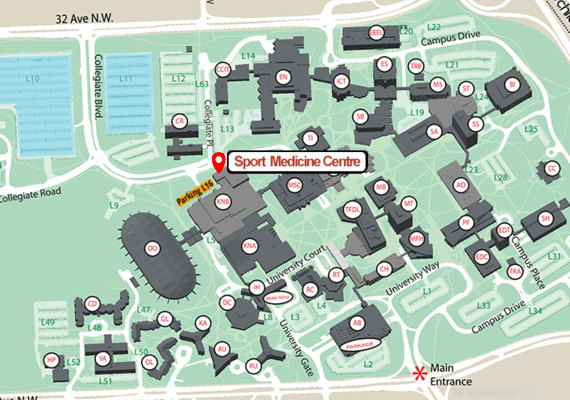 Contact Us
Sport Medicine Physicians:  403-220-8518
Physiotherapy:  403-220-8232
Orthopedic Surgeons:  403-220-5077
Fax:  403-282-6170
University of Calgary Sport Medicine Centre
376 Collegiate Blvd NW
Calgary, AB T2N1A4
Parking:
Parking Lot 16 (in yellow) is adjacent to the Sport Medicine Centre. Visitors must pay for hourly parking through the parking meters located at each ends of the lot.
Daily Parking is also available in Lot 10 & 11 (in blue) on the map. The daily parking fee is $8.00 paid at the meters located within the lots.