Physiotherapists know how the human body moves and what stops it from moving as it should. Physiotherapy can help you restore, maintain and maximize your strength, function, movement and well-being.  They have specialized skills to assess, diagnose and treat symptoms of illness, injury and disability.
We will do the following:
Help you understand what's causing the condition.

Develop a custom treatment plan to help you take back control.

Work to restore, maintain and maximize movement, flexibility and physical independence.

Teach you how to reduce pain and manage any chronic symptoms.

Teach you how to stay well, avoid future injury and achieve the best quality of life.

Keep you involved in the recovery process. A patient's success often depends on their level of commitment.
Can Physiotherapy Help Me?
We can help you take back control of your body and life by helping you restore and maintain your greatest level of physical function. Our training enables us to recognize signs of serious health conditions. If we can't help you, we will refer you to a doctor or specialist who can.
You do not need a referral to see a physiotherapist.
Visit a physiotherapist for any of the following:
injury

accident

pain or discomfort

a medical condition that limits movement
First Physiotherapy Appointment
For your first visit to a physiotherapist, you will need to do the following:
Arrive 15 minutes early
Arrive 15 minutes early to fill out forms. This will help us understand your condition. Save time by completing the Physiotherapy Registration Form online. Please remember to bring it with you to your first appointment.
Bring information
Please bring your Alberta Healthcare card and insurance coverage information.
Bring shorts or tank top
Bring a pair of shorts for lower body or back injuries, or a sleeveless t-shirt for an upper body injury.
Be prepared
You will be asked to answer questions about your condition and medical history for your physiotherapist.  You will undergo a physical examination by your physiotherapist. 
What to Expect at Your First Appointment
Your physiotherapist will review your condition and medical history.  A physical examination will be done by your physiotherapist to help them determine what is causing the problem. Your imaging may also be reviewed with you.
After the assessment, your physiotherapist will explain what is causing the problem and discuss treatment options to determine what will best suit your health and lifestyle. Be prepared for your first appointment to last 1 to 1 ½ hours.
Payment and Benefit Options
Additional Services
We also offer some additional treatment options including:
Shockwave Therapy to relieve pain and speed up healing and recovery
Rehabilitative Ultrasound Imaging (RUSI) to assess the core muscles needed to stabilize the body
Intramuscular Stimulation (IMS) a needle technique to relieve muscle tightness and pain
Concussion/vestibular
Pilates
Assessment and Treatment of TMJ
Golf related Injuries
Post-surgical rehabilitiation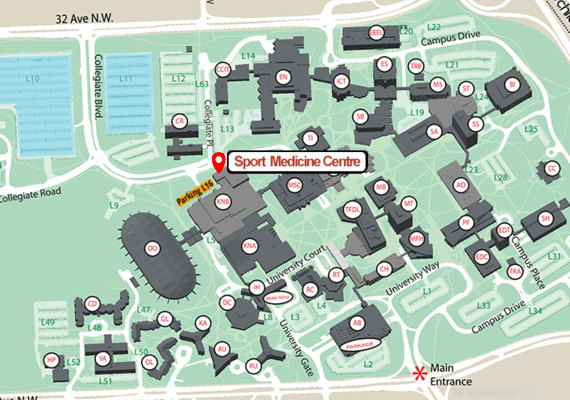 Contact Us
Sport Medicine Physicians:  403-220-8518
Physiotherapy:  403-220-8232
Orthopedic Surgeons:  403-220-5077
Fax:  403-282-6170
University of Calgary Sport Medicine Centre
376 Collegiate Blvd NW
Calgary, AB T2N1A4
Parking:
Parking Lot 16 (in yellow) is adjacent to the Sport Medicine Centre. Visitors must pay for hourly parking through the parking meters located at each ends of the lot.
Daily Parking is also available in Lot 10 & 11 (in blue) on the map. The daily parking fee is $8.00 paid at the meters located within the lots.